Introduction
The Beam On Order Tracking System, or BOOTS, is an innovative web-based application that allows for real-time order processing and tracking. BOOTS is 100% web-based and can be accessed and used from anywhere and from anytime in the world where there is an internet connection and using Microsoft Internet Explorer 5.5 or higher. This manual will help you understand how BOOTS works and how you can use it to streamline your ordering process. All the features, benefits and conveniences of BOOTS will be discussed in detail.
---
Contents
---
Getting Started
Before you can use BOOTS you need to have an account set up, complete with your own personal user name and password. If you are a current Beam On customer this is most likely already done for you. If you are new to Beam On and would like to get started creating and tracking stencil orders online, then you need to first contact Beam On to set up your account.
Once you have a user name and a password you can access your account by simply entering them into the BOOTS Sign In form on Beam On's website. This should take you to your Main View screen, where you will see a list of your current active orders (if any) along with a header bar and a side bar with your menu options.
The header bar has an area where you can enter the Reference Number of your order and instantly look up the details of that order as well as the tracking information. No matter what else you are doing within BOOTS, that Ref# look up field will always be at your finger tips.
The side menu contains button links to additional areas where you can create your order, modify or view your account information or get help with using BOOTS. What follows is a detailed description of everything you can do with BOOTS.
---
Main View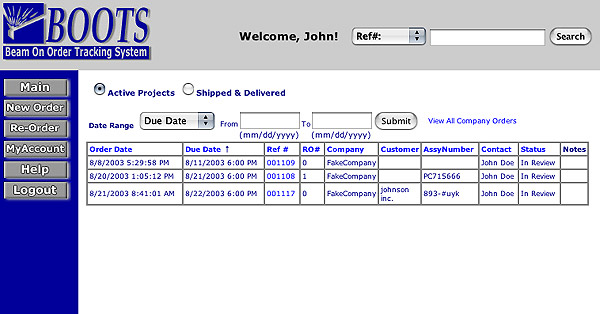 The main view screen lists all the active orders
you have made
. Your orders are displayed in descending order by due date and time. However, should you need to, you can sort your order list by different parameters by simply clicking on the column title. For example, you want to sort your orders by current status, so you can determine the status of your order at any given time. You can also search all your orders for specific details contained therein such as assembly number or the assembly manufacturer name.
As mentioned above, you can look up any of your orders by entering the Ref# into the text box located at the top of the page. You can also simply click on the reference number of an order in your active order list to look up those details as well.
You may notice a link that says "View All Company Orders." This is a switch that toggles between only the orders you have made (the default) and all the orders other employees in your same company has made.
---
Detail View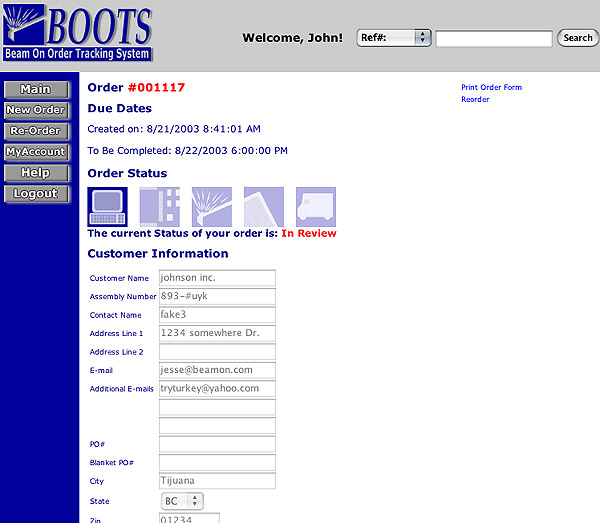 Detail View displays all the information and details of that order for you to review as well as the current status of that order. This area is accessed by searching for a specific Ref# or by clicking on one in the
Main View
.
Order Statuses: On active orders, the first thing you will see is the current status of that order. Five icons represent the stages your order goes through and below that graphic you will see the explicit status of your order.
In Review: This is the first status of any order and it means that your order has been received and Customer Service is reviewing the data and preparing your order.
In Design: This means your order has been transferred to the CAD department and is currently undergoing design per your specifications and translation into the format needed to etch.
Etch: Your order is currently being etched at this time, either laser etch or Band Etch™ depending on what you specified.
Assembly: The stencil has been cut and is currently being mounted on a frame and being prepared for shipment.
Final QA: Before being shipped, Beam On makes a final Quality Assurance assessment of your stencil. This is actually the last of many such checks of our work.
Shipped: Your stencil has left the building and is on it's way to your business. If you are not a local customer and require a shipment, this is the last stage of your order and a FedEx Tracking Number will be provided with this status.
Delivered: For local customers, once your stencil has been dropped off at your business, the driver will update your status to "Delivered" with the date and time and name of the person who accepted the package.
On Hold: Anytime during the processing of your stencil, this status may occur if we encounter a problem. The nature of the problem could be several different things. When your order goes on hold, an email alert is also sent to you. Before this happens however, Beam On will try to contact you by phone first in the hope of resolving the problem before there is a significant delay.
Please note that orders will only be on hold for a maximum of 30 days, after which time they will automatically be canceled. Should you want to order that same job again, you can look up the order and simply "Re-Order" it.
PO Missing, contact Beam On: Sometimes you may see this status, or you may have received an email alert telling you that you need to provide a PO in order for us to ship. Please contact Beam On right away with your PO so we can release your order on time!
Order Details: The details of your order are conveniently located here as well for your review. While you cannot make changes here, if you happen to notice an error, typo or other problem with your order and you feel it is not too late to make a change, please call Beam On Customer Service and they will be happy to accommodate you.
In the upper-right corner of your Detail View you will notice two options: Print Order Form, and Re-Order. Clicking on Print Order Form will open a new browser window with a printable form of your order. You can keep this for your own records. If, when you print it out, it does not line up correctly, this is most likely due to how the print settings are set up in Internet Explorer. Take a look at the options menu and adjust accordingly.
Selecting Re-Order allows you to do just that, order a copy of that order. Clicking this, takes you to the Re-Order menu option. Perhaps you need to run an additional line of the same assembly and you need another copy, or maybe your stencil was somehow damaged and you need a replacement; these are examples of situations where you would want to "Re-Order" your stencil. By clicking this button you are sped through the ordering process (detailed later) and sent directly to the confirmation page where you can review the order to make sure that is what you indeed want to order. Click "Submit" and your order is processed! Usually Re-Orders take less time than new orders since we already have your order's data and specifications on file. When making Re-Orders, the order is given the same Order Number, but you'll notice a change in the Re-Order Number column on the main view.
A Modified Stencil Order is when you want to set up a stencil order that is similar but different from the current one you are viewing. Maybe you want to make an "Up Rev" of the same assembly, or just another slightly different configuration, or you just want to make the same order but change a detail such as stencil thickness to see if it prints better; for any of these needs you would choose this option.
This option allows you to create a new order but based on the options and details you chose for the older order. When you click on the button you are transported to the Order page, but all the details are filled in the same as you had in the previous order, but they are editable. This means you can make the necessary changes, like change the stencil thickness, add a special instruction, or even upload new data to go with the same order details. This option provides you the convenience of ordering similar assemblies without having to enter all the same details over and over again. Since technically one or more of the details of this order are different from the one you based it on, a totally new Order Number will be given for this order.
---
"My Account"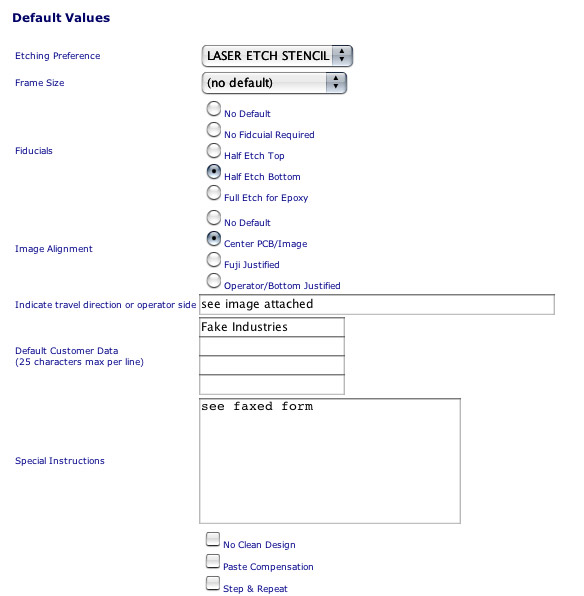 This is the area of BOOTS where you can edit your personal account information as well as your order form defaults.
Your order form defaults is an area where you can specify order details that are more or less consistent with every stencil you order. For example, your company only orders 29X29X1.5 framed stencils. You can set this as your default Frame Size and all subsequent orders you make will have that option defaulted to "29X29X1.5" This allows you to forego unnecessary data entry. If your company switches production methods to another frame size, it is easy for you to make a change to your default order details. What if you're company still mainly uses 29X29X1.5 frames, but for a special project you need to use a different frame size? No need to worry, BOOTS allows for that kind of flexibility. Since what you designate here in My Account are your order form defaults you can still change those options per order as you make it. The defaults are just that, defaults, but they can easily be changed for one or many orders without altering your initial default.
Likewise for any other order details you can specify defaults just as easily, even a special instruction that should accompany every order you make. However, if you find that certain details change so often with each job then it might be best for you to leave those details to "No Default," that way you can specify those details per order.
---
Creating a New Order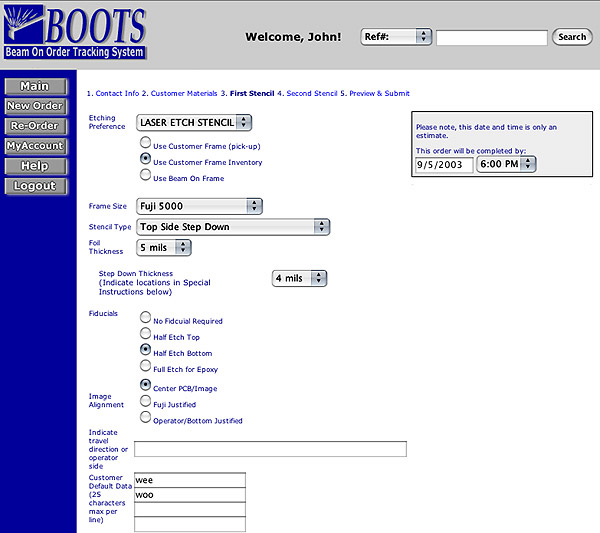 Creating a new order is one of the easiest things you can accomplish with BOOTS. Simply click on the "Order" button on the side menu and you'll be taken to step one in the stencil order process.
There are four to five steps in the ordering process.
1.Contact Info
This is where you would put all the information needed in order for us to contact you and ship your stencil. Most likely this information should already be filled out with the info that was in your My Account area. But as detailed above, if for some special reason you needed to adjust one of these contact numbers or any other information, you can do that here and it would be updated for this order only. For example, if you put this order in late, and wanted to leave a late night phone number where we could reach you should a problem arise, this is where you would add that new information, but on subsequent orders it would not be there and thus no need to worry about Beam On calling you late at night!
2. Customer Materials
This area is where you would want to specify anything else that might be needed to go along with your order, such as a PCB board for comparison, or perhaps a drawing that is being faxed or anything else that might be required. However, the main purpose of this step is for you to upload the data file that goes along with your order.
If you choose to upload your data file through our website, press the "Browse" button and locate the file (usually a zip file) on your system. Once located, click "Upload" and the status of your file's upload should be displayed.
Please note that you can only upload one file to go with your order. If you have multiple files they need to be zipped into one file. Also, keep in mind the larger your file is, the longer it will take to upload. Please try to remove any nonessentials from your zip file before sending it to us.
If you choose not to send your file through our website and instead prefer another method (such as email, ftp, or a diskette), you still need to indicate that in the "Other" field below.
3. & 4. Stencils
Step 3 and 4 is where you would fill in the details of your stencil order(s). Step 4 is optional and only needed if you need to order a second stencil for the same assembly at the same time (a top side stencil and a bottom side for example). Like Contact Info, above, any default settings you may have indicated in My Account should be populated here as well. Again, if for a specific order, one of these defaults needs to be changed, you can make these changes here without altering it as your default choice. For example, if you normally etch stencils on 5 mil foils, but this time around you need to try a 6 mil, you can still make that change, no problem!
Due Date/ Ship Date (depending if you are a local or nonlocal customer), is automatically determined for you when you start making your order. It is Beam On's policy that most stencil orders have a standard turn around of 24 hours within the confines of our shipping business hours (M-F, 9am-9pm). Some types of stencils (such as step downs) and special needs may take longer. However, if you need an order sooner than the date that is automatically given, you can adjust the date and time as you see fit for each stencil. Please note that depending on the new date and time you select, it may be considered a "Rush" job and may incur a Premium charge. You will need to contact Customer Service to determine what that charge may be. When you have finished your ordering entirely, you will be reminded of any Rush due dates you may have specified on the Preview & Submit screen (see below).
Etching Preference is where you would select how your stencil should be etched. Either by laser, Band Etch™ or "Advise", which would leave the judgment up to Beam On's capable designers.
You'll also notice that below the Etching Preference is a selection of where your the frame is to come from for this order. Please note that if you do not have a frame in inventory with us, and are not providing your own, purchasing a Beam On Frame is available.
Frame Size is where you would select the frame size you require for your order.
Stencil Type is the type of stencil you need us to design. Is it a top paste stencil? A bottom? Multiple images can mean anything from a step and repeat job, to having the top and bottom images placed on the same stencil. If you select Multiple Images, please indicate any details in the Special Instructions box below.
Step Down Stencil of any type require another day to complete and we would require two different foil thicknesses, first the original, and second the stepped down thickness. Upon selecting any Step Down stencil from the pull down, another pulldown for the second foil thickness will appear.
Foil Thickness is where you indicate the foil thickness of the stencil you require.
Fiducials is where you indicate what type of fiducials are required for your stencil. If you do not require fiducials you still need to indicate such by selecting "No Fiducials Required."
Image Alignment is how the image of your stencil is to be aligned on the foil. If you select either "Fuji Justified" or "Operator/Bottom Justified" then you also need to indicate the travel direction or operator side in the text box below. This could be anything from "see attached drawing," which you may have attached in the zip file, or a list of componants that are on the correct side of your board you want justified.
Customer Default Data is where you can put up to four lines of identification on the stencil. Most customers use this area to put their company name, date of the stencil and assembly number of the build, etc. For your convenience, your customer's name and the assembly number you entered on the first step of creating a new order, should already be added here by default, but of course these are editable.
Special Instructions is the area where you would put exactly that. Anything else that cannot be readily explained on the order form but that you require needs to go here. This could be anything from indicating how you may want the pads of a certain component adjusted to instructions on how to ship your stencil.
Engineering Services are additional services that you may require along with your stencil. Please note that these may incur additional costs. Please contact Customer Service for more information on what these services are and how much they cost.
5. Preview & Submit
Once you have filled out all the required information for your stencil order(s), the last step is for you to give one last check to your order to make sure everything is correct. If you notice that there is something you need to change, all you need to do is click along the top navigation and go to the appropriate area and make that change and then simply click back on step 5 in order to return to the Preview & Submit page.
Once everything is deemed to be in order, click on the final Submit button in the lower right corner of the page and your order is done! The next page that will load is your confirmation screen where you are given the details of your order's due dates and their Reference Numbers. Please take note of these numbers (though, they are also emailed to you). Each stencil you order (even if you order two with the same order form, will get a unique Ref# which you will use to track your order's progress in our system.
And that's it! You've made your first order with Beam On using our new BOOTS system! Now that your order is active, you can track it at your leisure by looking up the order with your Ref# or by clicking on it in your Main View active order list.
Please note that if you later notice an error or ommision on your order form, you cannot make any changes yourself, but a simple call to Customer Service, armed with your Ref# for easy look up should clear up any errors in a hurry!